Link utili
Center for Spiritual Awareness

Il CSA è un'organizzazione non settaria senza fini di lucro, incorporata dallo stato della Georgia nel 1964. Il quartier generale internazionale è situato a Lake Rabun Road, nella contea di Rabun, nel nord-est della Georgia a circa 90 miglia da Atlanta. La nostra struttura, sparsa su un sito di 11 acri circondato da una foresta, include gli uffici amministrativi, un reparto pubblicazioni, cinque case indipendenti per gli ospiti, una sala conferenze (con una sala da pranzo annessa dove sono serviti pasti vegetariani durante i ritiri, quando previsto), il tempio di tutte le religioni, due edifici adibiti a biblioteche e un negozio di libri.
Center for Spiritual Enlightenment

The Center for Spiritual Enlightenment is a meditation center in the spiritual tradition of Kriya Yoga, welcoming people from all backgrounds who are seeking Self- and God-realization—a path to spiritually conscious, fulfilled living. At CSE you'll find practical support and tools for transforming your life, fulfilling your worthwhile dreams, and living a spiritually conscious life.
CSE World Headquarters is located in San Jose, California, where worship services, meditation instruction, Kriya Yoga teachings and initiation, hatha yoga classes, youth spiritual education, ministry services and retreats are regularly offered. It is also the home of Meru Institute for Yoga Studies; Lahiri Retreat House; a meditation garden open daily to the public; CSE Press; and Tree of Life Welcome Center and Bookshop. Teachings are offered globally through online programs, outreach, and publications.
Ananda

Situato nelle splendide colline umbre vicino ad Assisi, il Centro Ananda offre un'ampia gamma di corsi e soggiorni residenziali basati sui principi dell'antica scienza del Kriya Yoga e della realizzazione del Sé, trasmessi al mondo occidentale da Paramhansa Yogananda, autore di Autobiografia di uno yogi. Swami Kriyananda, suo diretto discepolo e fondatore delle comunità Ananda negli Stati Uniti, in Europa e in India, ha continuato a divulgare tali insegnamenti universali in tutto il mondo.
www.yogananda.com.au
Un sito dove si possono trovare molti scritti di Yoganandaji e di suoi discepoli sui più svariati argomenti.
Associazione Kriya Yoga Stella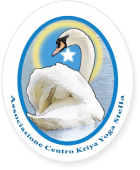 Gruppo di meditazione italiano affiliato al "Center for Spiritual Awareness", l'organizzazione fondata da Roy Eugene Davis negli Stati Uniti all'inizio degli anni settanta.
Oorganizza incontri mensili gratuiti di insegnamento e meditazione nella sede a Stella San Martino, in provincia di Savona e ritiri-seminari della durata di tre giorni due volte l'anno.
Organizza, inoltre, i seminari di Roy Eugene Davis in Italia. Roy Eugene Davis e un discepolo diretto di Paramahansa Yogananda, autore del famosissimo long-bestseller "Autobiografia di uno yogi".
http://www.kriyayogastella.org/

Settembre 2013, Mina Formisano fonda il Kriya Yoga Asd a Busto Arsizio, http://www.kriyayogaevolution.com/ Mina Formisano consegue il diploma di insegnante Yoga presso il Kriya Yoga Ashram Milano. Laureata...
Foundation of Pathanjala Yoga Kendra

Mr. Viswanatha (Masterji) hails from Bengaluru in Karnataka in the South of India. He has taught Ashtanga yoga internationally for over 30 years and is easily one of the most celebrated yoga professionals in Southern India. In the early 1970's Viswanatha founded the Foundation of Pathanjala Yoga Kendra which sponsors humanitarian works, especially for economically challenged children in India. Viswanatha became a master educator in 1968, and has spent 12 years teaching Philosophy at Indian schools and colleges during his career. He has over 15 years direct study with his own Yoga Master. Viswanatha opened a beautiful and spacious new studio in December, 2000. Here he receives students of all levels and at most times of the year.
http://www.yogamasterji.com/index.htm
Patanjala Ashtanga Vinyasa Yoga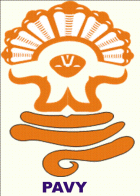 Sri V. Sheshadri and Sri. Harish.S is teaching traditional Ashtanga Vinyasa Yoga as taught by Sri Krishnamacharya, Sri BNS Iyengar and Sri K. Pattabhi Jois and also Guruji Prakash Yogi.
Sri V.Sheshadri and Sri. Harish.S has opened a Patanjala Ashtanga Vinyasa Yoga shala (PAVY) for yoga asana and pranayama in Krishnamurthypuram, near Ballal Circle, Mysore. Sheshadri and his son Harish are teaching together in their shala. It is also a branch of Pathanjali Yogasharama Trust(R) , Bangalore.